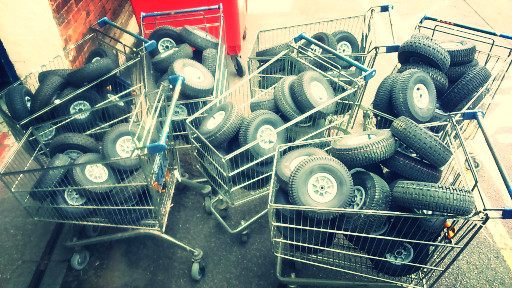 Nippy November greetings to one and all.
Ah! Those frosty mornings and evenings are upon us once again. Did you all remember to put your clocks back? We won't single out the elf that put theirs forward.
So, what delights for these dark nights have we got in store for you all?
Psst! Want a wheel? The elves collected dozens of pneumatic go-cart wheels this week. They're located in Quality Street and have either nylon or metal bearings and are priced accordingly. Perfect for building your very own soap-box during the winter months. Maybe you could even enter it in next year's Humber Bridge Soap Box Derby. Watch a video here.
https://www.youtube.com/watch?v=wOxd_TUMX5Y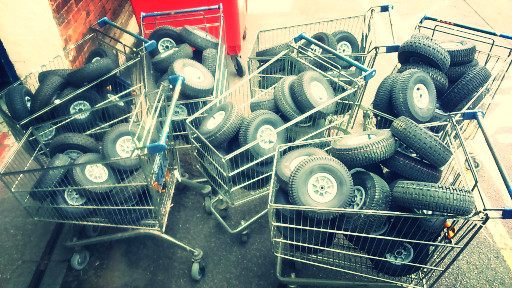 On your practice runs you might consider some of these lovely cushions to – well - cushion your fall.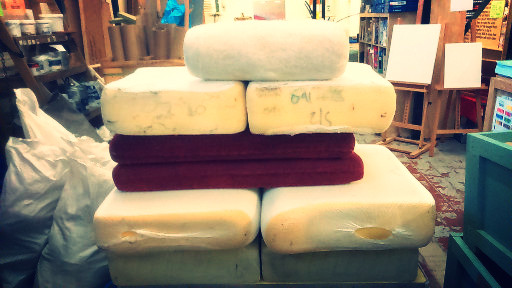 You may recall that we went to Gloucester recently for a multi-swap. We picked up these really shiny chrome tap bodies. You'll find them in our scrap section.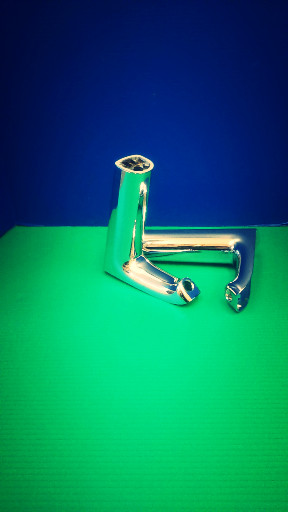 Along with these black, sticky-backed, lozenge shaped, foam pieces. These have always proved to be extremely popular and the elves eyes lit up when they were offered them. They measure 28.5cm by 12.5cm. We have an entire crate full but they won't stick around for long.
There are still plenty of days where there will be gifts to give your family and friends before Christmas. How about wrapping those wonderful gifts, which of course you purchased from us, in one of these funky rolls of gift wrap.
We hope that your ferret is getting fitter after we blogged those long, straight tubes two weeks ago. Now we can get it running around in circles. We only have one piece of this. This blue corrugated tube is a little over 2.6 metres in length and has an internal diameter of 9cm.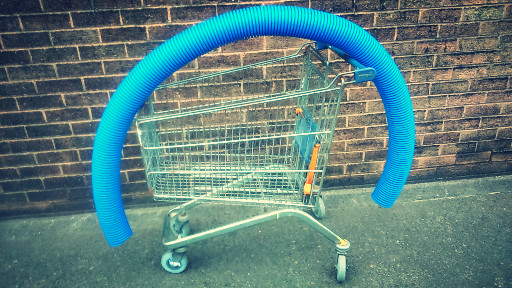 We always welcome any photographs of the creations you make from our scrap so why not email them in to us.
We know we keep on about this. Please remember to bring your Membership card with you when you shop as we still can't get those interfering pixies out of our database. If you forget your card or are unable to remember your membership number you'll be charged day membership at 1GBP. Also, we're unable to reserve any items.
Hope to see you very soon.
The WRE gang.