JOBS A GOOD UN! JOB OPPORTUNITY AT WRE
Howdy Scrapionados!

To see this week's images hop along to our Facebook page https://www.facebook.com/WorcestershireResourceExchange/

Firstly before tell you about our exciting opportunity, let's talk about what scrap pickings we have found for you this week.
Jumbo sums up the first two items. Jumbo bright yellow cargo netting. Much bigger and chunkier than we usually get. It looks like cheese strings gone wrong.

The next jumbo offering is large tins. These always fly out and there are so many things you can do with them. Decorate them to make pen holders; pierce them to make pretty garden lanterns or even convert them into a hobo stove.

We have something for the 'WRE Ferret Fan Club' this week, lots of tubes, some white and some transparent, roughly 9cms in diameter and 54cms long. Hours of ferret tunnel fun.

Also this week a different type of tubing, thin brightly coloured tubing. Too small for ferrets, but might make a fantastic ant farm adventure playground.

We have some lovely little jars which would be great for storing an endless list of things from herbs to buttons. Some are glass and some are plastic with gold and silver lids.

It wouldn't be WRE if we didn't have felt. Not only do we have a buy one get one free offer on the posh felt; with new colours, which have never been available before, but we also have rainbow felt stacks and off cuts.


And finally the news that some of you have been waiting for; a very rare thing, a job opportunity at WRE. Yes one of us is leaving to move onto pastures new and a job vacancy has become available for a WRE Retail Assistant, so if you have retail experience, are creative, imaginative and sell snow to Eskimos then this might be your chance to work in one of the most excitingly bizarre places in Worcestershire. For more information or an application pack please email info@wre.uk.com.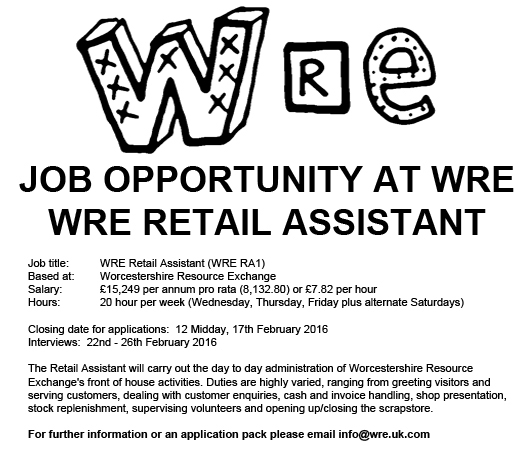 That's all for this week. Over and out!
The WRE Gang.