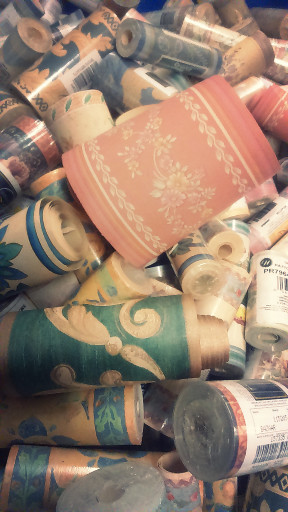 Season's greetings.
This will be our final blog before the festivities begin, the elves disappear to the North Pole and 2016 draws to a close. So we would like to take this opportunity to thank all our members and contributors for continuing to support our creative re-use charity project, and wish you all a very merry Christmas and a happy new year.
We did warn you last week, and chief warehouse elf insisted we use his absolute favourite Christmas joke.
Darth Vader to Grand Moff Tarkin. (laboured breathing): I know what Luke Skywalker is getting for Christmas.
Grand Moff Tarkin: How, Lord Vader?
Vader: I felt his presence.
And just for you Trekkies out there:
Kirk to Uhura: I know what Spock is getting for Christmas.
Uhura: How captain?
Kirk: I opened his presents.
Watch out for the tumbleweed!
Blogging this week commences with a massive tub of wallpaper borders. If you're wondering what you can do with these beauties, just take a look on the internet. There are quite literally hundreds of creative, crafty projects they can be used for. Our particular favourite is the "fool the eye" bookcase.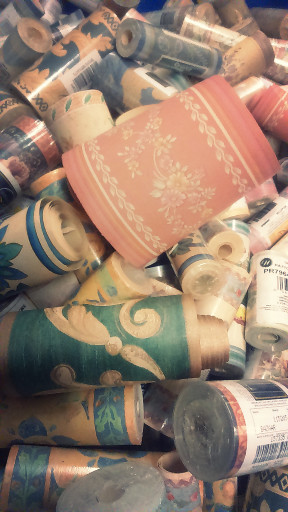 And, if wallpaper borders are not big enough for your project, we've got plenty of wallpaper pattern books dotted around the shop in our scrap section.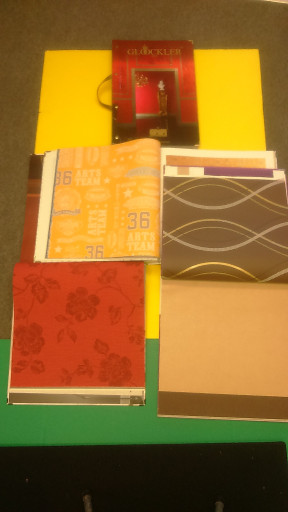 Let's face it. We're all guilty of this. That last minute present that you've been meaning to purchase but haven't had the time to get around to it. Probably because you just can't think what to buy them. Here at the WRE we believe we've come with the answer in the shape of a "Box of Delights" For just £2.50 you can acquire one of our flat-packed cardboard boxes and fill it with masses of scrap which you can then give as a present this Christmas. Just tell them they have to think "outside the box" to create a unique gift that they will treasure forever. Who knows, they could become the next Turner prize winner.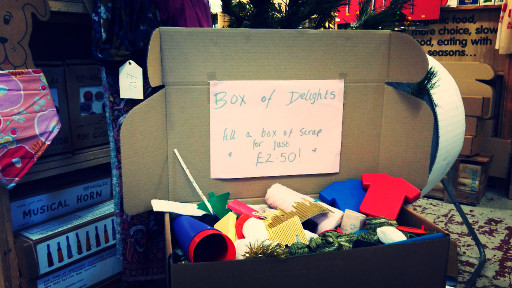 And if unusual gifts are your thing to give. How about one of these SuckerBall games. Yes, we're well aware that it's technically a beach game, but turn the heating up, put on those shorts and before you know it you'll be transported to Hawaii, or Hornsea for that matter, and having hours of fun. Great for the little ones who, on Boxing Day will no doubt, already be bored.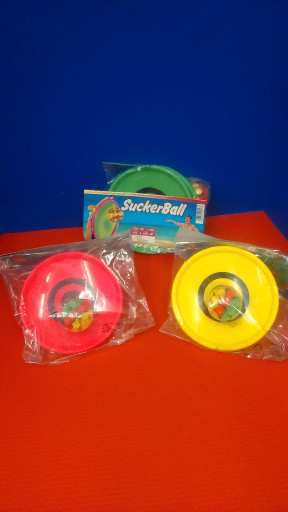 This is your last chance to purchase from our Christmas table and, the final time to buy a day membership. Saturday 17th is the ultimate day we are open this year and that you will be able to shop for £1.00 as we are concluding this feature. Our shop will then re-open its doors on Saturday 7th January.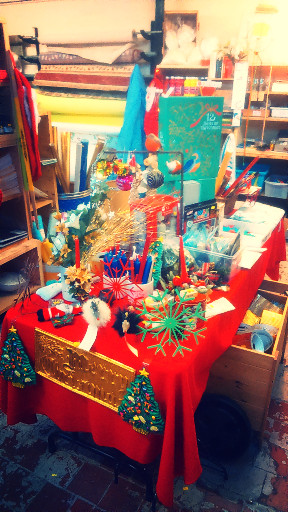 Just a reminder that we're unable to reserve any items.
Merry Christmas everyone!
The WRE gang.